Regular price
$8.73 USD
Sale price
$8.73 USD
Unit price
per
Sale
Sold out
Introducing our Engraved Aluminum Dog Tags - Personalized, the perfect way to showcase your pet's unique identity and style. Crafted with precision and designed to last, these dog tags are a combination of durability, aesthetic appeal, and personalized touch. Whether you're looking to add a touch of flair to your furry friend's appearance or want a reliable identification solution, our Engraved Aluminum Dog Tags are the ideal choice.

Each dog tag is meticulously crafted from high-quality aluminum, known for its lightweight yet robust nature. The tags are expertly engraved using state-of-the-art technology, ensuring a crisp and long-lasting design that won't fade or wear off. With our personalization options, you can choose from a variety of stylish fonts and add your pet's name, contact information, or any other text that you desire.

Our Engraved Aluminum Dog Tags come in a range of eye-catching shapes and sizes, allowing you to find the perfect fit for your pet's collar. From classic circles to playful bone shapes, we have a tag to suit every pet's personality. The smooth and polished surface not only enhances the visual appeal but also makes it easy to clean and maintain.

With the included stainless steel split ring, attaching the dog tag to your pet's collar is a breeze. The sturdy ring ensures a secure connection, giving you peace of mind that your pet's identification is always visible and intact. Plus, the lightweight design of the dog tags ensures that they won't weigh down your pet or cause any discomfort.

Our Engraved Aluminum Dog Tags are not only fashionable but also highly functional. They serve as a crucial identification tool, enabling others to quickly contact you if your pet ever goes astray. By adding your contact information to the tag, you increase the chances of a safe and speedy reunion with your beloved furry friend.

Choose our Engraved Aluminum Dog Tags - Personalized to give your pet a stylish and distinctive look while ensuring their safety. Whether you're a proud pet parent or looking for a thoughtful gift for a fellow animal lover, these dog tags are the perfect choice. Trust in the quality and craftsmanship of our product and let your pet's personality shine with their very own personalized dog tag.
View full details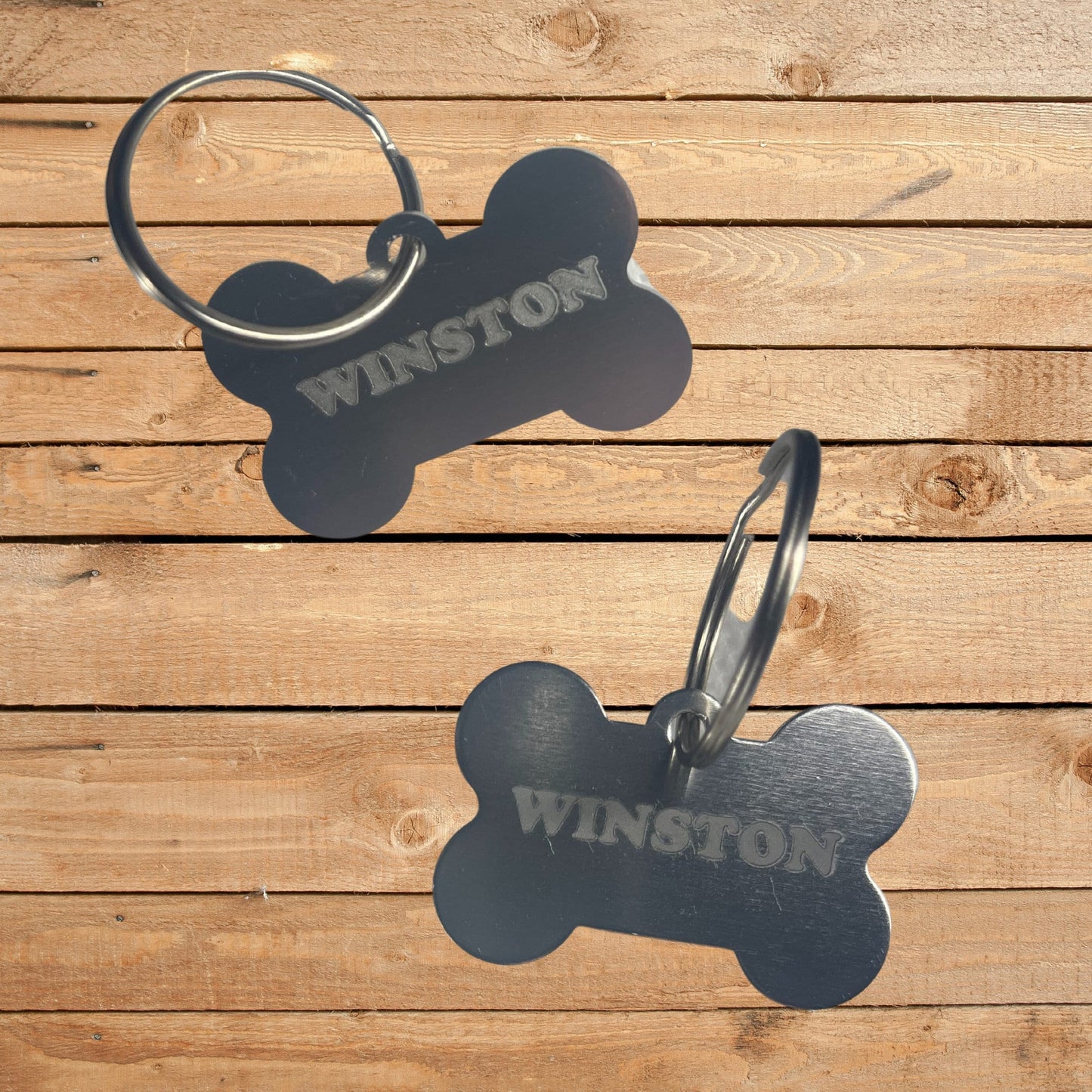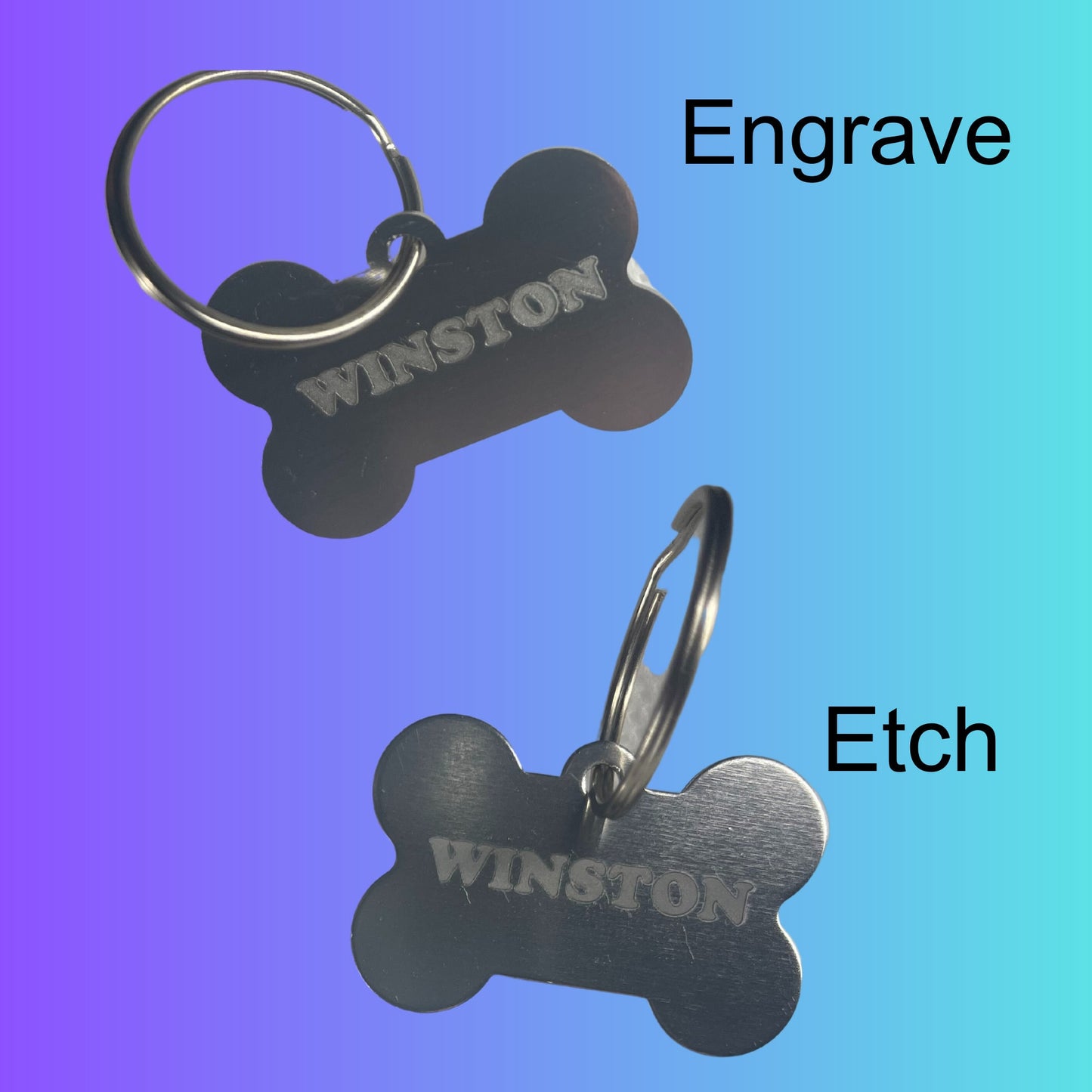 Free Shipping

Enjoy Free Shipping on Orders of $50.00 or More! At Lazer Workz, we provide free shipping on orders that meet or exceed $50.00. No matter where you are, we will cover the shipping costs when your cart reaches the minimum threshold. Shop from our wide range of products, and have them delivered to your doorstep without any additional shipping charges. This offer is our way of ensuring exceptional value and customer satisfaction. Please note that additional charges may apply for expedited shipping or international orders. Choose Lazer Workzfor a hassle-free shopping experience with free shipping on qualifying orders.

Returns

Returns accepted for 14 days on physical products only
Customer provides return shipping
No restocking fee
No final sale items